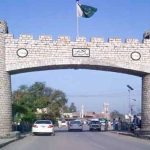 PESHAWAR: The Frontier Corps authorities arranged an interactive session with FATA youth and notables under the auspices of sector command center and apprised them about ongoing development projects in the belt.
The event was organized on the special directive of Inspector General of Frontier Corps and the Participants including youth and traders visited 164 wing Mehsood scouts Khaibi Naka and 102 Wing Khyber Rifles Jarobi.
The participants were briefed about the development schemes under way in FATA under the supervision and Pak Army, Frontier Corps and Political Administration.
The delegation appreciated the government, Pak army, Frontier Corps and Political Administration and tribesmen for rendering supreme sacrifices to wipe out terrorism and ensure durable peace in the area.
They said that people of the entire country were leading peaceful life due to the matchless sacrifices of the tribesmen and security forces against terrorism and adding the socio-economic condition of people in the tribal area was gradually improving in its wake.
The member of the delegation also expressed gratitude of Corps Commander Peshawar, IG FC and Sector Commander Center for taking their keen interest in socio-economic development of the tribal areas.
They hoped that job opportunities would be created for youth of the area as a result such effective measures.
They vowed to reject those elements which were creating rift between security forces and people, adding tribesmen would stand by the security forces and not allow these inimical forces to succeed in their evil designs.
The FATA delegation said that FATA-KP merger had been a cherished dream of FATA people and would be written as golden chapter in the country's history, besides bringing the region into mainstream of national development.