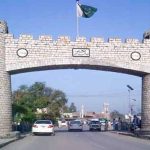 ISLAMABAD: The meeting of Federal Cabinet was held in Islamabad today with Prime Minister Shahid Khaqan Abbasi in the chair.
The Cabinet approved National Internal Security Policy 2018-2023, National Transport Policy of Pakistan, 2018, National Films Policy and National Culture Policy.
The meeting ratified the decisions taken by the Economic Coordination Committee (ECC) of the Cabinet in its meetings held on 17th and and 24th of this month.
The meeting also ratified the decisions of the Cabinet Committee for Disposal of Legislative Cases in its meetings held on 23rd & 24th of this month
The Cabinet approved Memorandum of Agreement between the Ministry of Commerce, Government of the Islamic Republic of Pakistan and the Department of Trade and Industry Government of the Republic of Philippines on rice trade.
The meeting also approved issuance of Charter License, Class-II (Domestic) to K-2 Airways (Pvt) Ltd.
The meeting approved a proposal for transfer of the subjects of Boy Scouts and Girl Guides, Youth Activities and Movements and Scholarship Schemes from Ministry of Inter-Provincial Coordination to the Ministry of Federal Education & Professional Training.
The Cabinet approved reconstitution of the 8th Wage Board for Newspapers Employees by appointing two additional members on the Board.
A proposal for reconstitution of the Board for Board of Investment was also approved
The Federal Cabinet also approved Cancer Control Programme formulated by Ministry of National Health Services Regulation and Coordination.