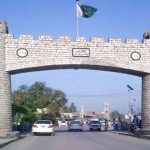 ISLAMABAD: Minister for Information and Broadcasting Chaudhry Fawad Hussain says the federal cabinet has formally approved opening of Kartarpura corridor to facilitate Sikh community of India.
Briefing media in Islamabad on Friday, he said Prime Minister Imran Khan will perform opening of Kartarpur border corridor on Wednesday.
He said Kartarpur is a sacred place for Sikh community living across the globe.
The Minister said it was a longstanding desire of the Sikh people to facilitate them in visiting their sacred places so that they can perform their religious rituals there.
He said visa free entry will be provided to Sikh pilgrims from India and a mechanism in this regard is being finalized.
The Minister said it will be a mega event and visa relaxation will be offered to Indian journalists enabling them to attend the event.
He said local and international journalists will also be invited to witness the programme.
Chaudhry Fawad Hussain said opening of Kartarpur corridor is a peace initiative of Pakistan to normalize relations with India.
He said Islamabad wants normalization of ties with New Delhi to defeat poverty and this endeavor will be pursued with utmost sincerity.
He said cabinet also approved the appointment of Arif Usmani as president of National Bank.
Minister told the media that export of Sugar and import of Urea was also approved in the meeting.