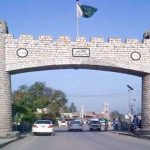 ISLAMABAD: A meeting of the federal cabinet was held in Islamabad on Tuesday with Prime Minister Shahid Khaqan Abbasi in the chair.
The meeting approved signing of seven MoUs with various countries aimed at enhancement of economic and strategic cooperation and carrying out a feasibility study of a project.
It approved Prevention of Smuggling of Migrant Ordinance, 2018.
The Cabinet also assented to ceiling for allocation of Grants-in-Aid to Bar Councils and Bar Associations for 2017-18.
The meeting approved appointment of Managing Director, Utility Stores Corporation.
The Cabinet was also given a detailed presentation on China-Pakistan Economic Corridor, including various projects being undertaken in energy sector, infrastructure, industrial cooperation and development of Gwadar.
Various energy sector projects being set up under the CPEC project would contribute over 17000 MW of energy to the national grid on completion.
The meeting was informed that CPEC would significantly help towards ensuring inclusive development especially the socio-economic development of the less developed areas of the country.
The Cabinet approved a summary regarding rationalization of the prices of CNICs and National Identity Cards for Overseas Pakistanis.