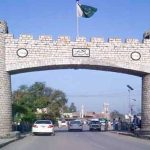 ISLAMABAD: Federal cabinet on Tuesday likely to conditionally approve removal of former prime minister and Pakistan Muslim League-Nawaz (PML-N) supremo Nawaz Sharif's name from the Exit Control List (ECL).
The former prime minister will have to provide guarantee to travel abroad. The federal cabinet is considering the option of submitting bonds as surety.
Nawaz Sharif's name would be removed from the ECL if he fulfills the conditions of the Sub-Committee.
The Sub-Committee has also demanded the lawyers of the PML-N supremo to handover some assets.
The subcommittee will send a summary to the federal cabinet after approval of conditions from Nawaz Sharif and the committee will take final decision till 9pm.
It is pertinent here to mention that two meetings of the subcommittee ended without any decision.
Earlier on Monday, the National Accountability Bureau (NAB) said the government itself should look into the matter of excluding Nawaz Sharif's name from the ECL. The anti-graft watchdog had returned the matter to the interior ministry after it sent the PML-N supreme leader's medical reports to the NAB.
Nawaz Sharif was scheduled to travel UK on Qatar Airways flight QR629 yesterday. However, his ticket had been canceled as the authorities did not remove his name from the ECL.