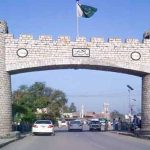 ISLAMABAD: A special meeting of the federal cabinet on Monday decided to observe Kashmir Solidarity on April 6, Friday, in support of the brave and resilient people of India-Occupied Kashmir who are continuously demonstrating against Indian atrocities in the valley.
According to details, the emergency meeting, chaired by Prime Minister Shahid Khaqan Abbasi reviewed the situation in India-Occupied Kashmir afterthe recent Indian brutalities and killings and adopted a resolution.
Indian authorities Monday shut schools and blocked internet services in Occupied Kashmir, after a weekend of protests and gunbattles left 20 dead and 200 injured — including a number of people with damaged eyesight.
Three India soldiers and 17 Kashmiris died in a series of clashes south of the main city of Srinagar, in the single worst day of Indian brutality violence in Kashmir since 2016.
Thousands took to the streets over the weekend to protest against Indian atrocities but Indian police opened fire with live rounds and pellet guns on crowds who threw stones and chanted slogans against Indian rule.
Doctors said Monday the extent of pellet gun injuries was the worst they had seen since hundreds were wounded in unrest that followed the shooting death of charismatic Kashmiri separatist Burhan Wani in July 2016.