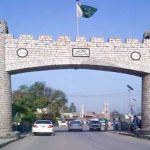 ISLAMABAD: The federal Cabinet approved on Friday suspending bilateral trade ties with India, as earlier decided in the National Security Council's meeting summoned after India revoked occupied Kashmir's special status.
The decision was announced during a session of the federal Cabinet today.
During the session, the Cabinet also gave approval for the new constitution of the Pakistan Cricket Board.
In the new constitution, the regional system in the sport has been abolished.
Due to the measure, now provincial teams will participate in domestic cricket.
On August 7, the NSC discussed the situation arising out of the unilateral and illegal actions by the Indian government, situation inside Indian occupied Kashmir and along the Line of Control.
The press statement said that the Committee decided to take the following actions:
1. Downgrading of diplomatic relations with India.
2. Suspension of bilateral trade with India.
3. Review of bilateral arrangements.
4. Matter to be taken to the United Nations, including the Security Council.
5. Independence Day, on 14 August, to be observed in solidarity with brave Kashmiris and their just struggle for their right of self-determination. 15th August will be observed as Black Day.
The official press statement after the NSC meeting said that the PM directed that all diplomatic channels be activated to expose brutal Indian racist regime, design and human rights violations.