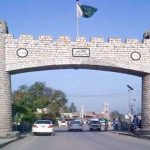 ISLAMABAD: The federal cabinet in its meeting on Wednesday has approved the formation of a three-member committee regarding putting names on or removing from the Exit Control List (ECL).
The meeting of the federal cabinet held here in Islamabad with Prime Minister Shahid Khaqan Abbasi in the chair which approved the constitution of the committee to be headed by Federal Law Minister Mohammad Bashir Wirk and comprised of SAFRON Abdul Qadir Baloch and Advisor to Prime Minister Barrister Zafrullah.
The committee will finalize rules and regulations for putting names on or removing from ECL besides giving recommendations.
The rules and regulations and recommendations of the committee will be forwarded to the federal cabinet for final approval.