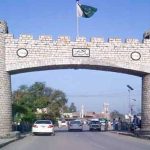 ISLAMABAD: Prime Minister Imran Khan on Thursday in a meeting of the federal cabinet has expressed satisfaction over a report on the targets met by cabinet members.
According to media reports, the performance of ministries and ministers in line with the government's 100-day plan were reviewed during the cabinet meeting.
The reports said that an eight-point agenda including reforms in Gilgit-Baltistan and the country's security and economic situation were discussed during the meeting.
Cabinet members accorded approval for the expansion in fencing and lighting on Pakistan's border with Afghanistan, the reports said and added that approval was also given for Ministry of Trade and Industry's National Tariff Policy.
Cabinet members further accorded approval for a proposed grant for Radio Pakistan and the formation of a search committee for the appointment of a vice chairman of Shaheed Zulfiqar Ali Bhutto Medical University.
"Approval was also given for ECC's decisions and appointment of members and directors in nine various institutions," the reports said.
The premier expressed satisfaction over a report on the targets met by federal cabinet members and directed that the pace of work be further increased.
Further, during the meeting, Prime Minister's Adviser on Establishment Mohammad Shahzad Arbab briefed cabinet members on the 100-day plan targets met by the government. Following this, the cabinet accorded approval for 100-day plan implementation report.
PM Imran will address the nation today regarding the plan of his first 100 days in office.