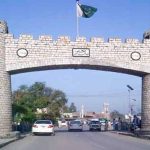 ISLAMABAD: The federal cabinet Thursday decided to place the names of Pakistan Peoples' Party Co-Chairperson Asif Ali Zardari and 171 others, mentioned in JIT's report in fake accounts case, on the Exit Control List (ECL).
Briefing the media after federal cabinet meeting, which was chaired by Prime Minister Imran Khan, Information Minister Fawad Chaudhry said that taking in view of the Joint Investigative Report submitted in the Supreme Court of Pakistan, the federal government has decided to put as many as 172 people on the ECL.
He said that now Zardari would take JIT seriously. "This is not the old Pakistan where people will be compromised," he said. "The independent accountability process will continue."
Chaudhry explained that the decision was taken because "this money belongs to the people of Pakistan."
He said that elections Khyber Pakhtunkhwa assembly in tribal districts would be held in June,2019. "The tribal districts would get constitutional rights. We wanted to take tribal districts into the mainstream as soon as possible," he said.
The information minister said that the cabinet also discussed the recent spate of killings in Karachi.
"The situation has deteriorated suddenly," the minister said. "The death of Ali Raza Abidi shows that some gangs have become active again. Karachi's peace is linked with Pakistan's economy so we will never allow Karachi's peace to be sabotaged like this again."
"We have seen Altaf Hussain's provocation and orders from England to commit murders here. His hate speech then went viral on social media. The UK authorities have not taken any action yet. The cabinet is concerned about this. These issues will be raised with the British government.
"There are South African gangs active in Karachi. It's very important that these gangs are squeezed there where they are being operated from. The Foreign Office has been directed to take up this matter with the South African government as well.