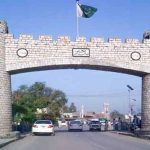 ISLAMABAD: The federal cabinet will meet today (Tuesday) to discuss the evolving political and economic situation of the country as well as the SOPs that will be observed across the country ahead of Eid-ul-Azha.
The meeting takes place a day after the National Command and Operation Centre (NCOC) chalked out the SOPs for Eid-ul-Azha.
In the NCOC meeting on Monday, the forum was told that around 700 cattle markets will be functioning across Pakistan at the eve of Eid-ul-Azha, for which necessary guidelines have been forwarded.
Addressing the session via videolink, federal minister Asad Umar said that the management of cattle markets is quite important in order to contain the spread of the coronavirus as people congregate in large gatherings during this time.
The minister said that the cattle markets will be set up outside the cities and a layout of these will be shared with everyone so health protocols and guidelines can be followed.
The NCOC chairman had further said that the local administrations should ensure that the cattle markets should operate from 6am to 7pm.
Among other guidelines, it was decided that the screening of those entering the markets would be mandatory.
People will be asked to ensure they are wearing face masks and practicing social distancing. The officials will be asked to ensure that only a designated number of people will be allowed inside at one time to avoid over-crowding.