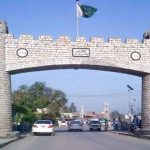 ISLAMABAD: The federal ministry of interior on Friday have placed name of Opposition Leader in National Assembly (NA) and President of Pakistan Muslim League-Nawaz (PML-N) Shehbaz Sharif on Exit Control List (ECL).
The decision was taken on the recommendation of National Accountability Bureau (NAB) and after the approval from the cabinet.
The opposition parties are likely to protest against the decision during NA session today.
On February 15, LHC had ordered to release Shehbaz Sharif after approving his bail plea.
The court said in its remarks that the NAB had failed to prove the allegations leveled against the PMLN president. Shehbaz Sharif never remained the chief executive of Ramzan Sugar Mills, LHC remarked.
Shehbaz Sharif said the truth prevailed once again and thanked God. We are appearing before courts and will continue to do so, he vowed. He once again claimed to leave politics if corruption is proved against him.
The PMLN president added that he had already said the cases are based on lies, and demanded that accountability of all should be held.
NAB had arrested Muhammad Shehbaz Sharif in the Ashiana-e-Iqbal Housing Scheme scam on October 5. The former chief minister was charged with awarding illegal contracts to his favorite firm.
He was apprehended during his appearance before NAB in Saaf Pani Company scam. Sources told that three files were tabled before him. The bureau quizzed Sharif regarding a tender awarded to a private consultancy company for a survey of the Saaf Pani company.
The PML-N president had failed to satisfy the probing team of the bureau during the investigation and was ultimately arrested.
NAB had claimed that the company did not conduct any kind of survey but nevertheless was provided a lucrative sum of Rs 1.5 billion.
Ex-prime minister Nawaz Sharif's principal secretary Fawad Hassan Fawad became an approver in the case. Fawad Hassan Fawad, in his statement before NAB, had claimed that he had awarded a contract to a "favourite firm" in the Rs14 billion Ashiana Housing project at the behest of Shahbaz Sharif.
The anti-graft agency said that the contract for the housing scheme was won by a construction company titled Chaudhry Latif and Sons but Sharif cancelled it and later on awarded the contract to Lahore Casa Developers – a proxy group of Paragon City (Pvt) Limited, which is said to be owned by ex-Railways Minister Saad Rafique".