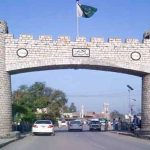 ISLAMABAD: Special Assistant to Prime Minister on Information and Broadcasting Dr. Firdous Ashiq Awan says federal and provincial governments are working together to protect the nation against the pandemic of COVID-19.
Giving a media briefing along with DG ISPR Major General Babar Iftikhar in Islamabad on Friday, she said National Command and Control Centre for COVID-19 will act as a nerve centre against the pandemic.
DG ISPR Major General Babar Iftikhar said role of media is very important in fighting the pandemic of coronavirus in Pakistan.
He said Pakistan Armed Forces are utilizing their all resources in fight against this disease.
DG ISPR paid tributes to valiant doctors, paramedics, security forces and law enforcing agencies who are confronting this disease at the frontline.
"It will serve as the nerve centre to faciltiate timely decision-making in Pakistan's battle against coronavirus," the DG ISPR said.
The PM's pointperson on information said that ISPR and the information ministry will serve as the focal source of information for media regarding developments on and government's response to the pandemic.
"It was decided in today's meeting that ISPR and Ministry of Information and Broadcasting will serve as the main source of information for media regarding coronavirus," she said.
Maj-Gen Babar said that during the last 38 days we as a nation fought with full determination against this menace.
"People of Pakistan have shown exemplary resilience in dealing with the coronavirus over the last three months… I pay special tribute to doctors, paramedics, security personnel, on the frontlines of the battle against COVID-19 virus. I also thank ulema for their role," said the ISPR DG.
Media has also reported objectively on the issue and kept the people aware, he added.
"The National Command and Operation Centre is operating under the NCC and is headed by Federal Minister Asad Umar," said the chief military spokesperson. "It serves as a nerve centre to collate and analyse information received from provinces, after which recommendations are made to NCC so political leadership can make decisions," he added.
Maj-Gen Babar said the decisions taken after recommendation made by NCOC included isolation of areas that were identified as hotspots. "It also helps us ascertain food, medical and equipment needed in targeted areas, and allows us to make time-sensitive decisions," he added.
The ISPR DG said the media has a key role in the fight against coronavirus. "I am grateful to our media as it has been objective in its reporting and created awareness among the people," he maintained.