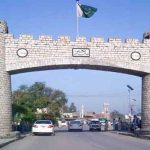 LAHORE: Chief Justice of Pakistan (CJP) Justice Saqib Nisar has ordered the audit of medical colleges by an independent chartered firm.
Hearing suo moto case against hefty charges for delivering services by medical colleges, CJP said that the fees should not be too high as to rob poor students.
He remarked that the medical education has become a business terming it deplorable saying it is a life-saving profession.
He further said that the medical colleges are producing mediocre lot and the doctors nowadays were unable to check even blood pressure.