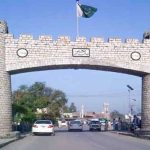 PESHAWAR: Nurse Musarat on Saturday lost her battle against novel coronavirus in Peshawar.
According to details, Musarat, who was serving in Kohat, was in quarantine after she tested positive for the coronavirus few days ago.
Chief Minister of Khyber Pakhtunkhwa has also expressed grief and sorrow on sad demise of the nurse.
Today Pakistan has registered its deadliest day with 78 new deaths from coronavirus within 24 hours as total confirmed cases of the virus rise to over 66,000.
Till now 26,113 coronavirus cases have been confirmed in Sindh, 24,104 in Punjab, 9,067 in Khyber Pakhtunkhwa, 4,087 in Balochistan, 2,192 in Islamabad, 660 in Gilgit-Baltistan and 234 in Azad Kashmir.
Khyber Pakhtunkhwa has reported most deaths from the virus as compared to other provinces of the Pakistan. 445 individuals have lost their lives to the epidemic in KP, 439 in Punjab, 427 in Sindh, 46 in Balochistan, 23 in Islamabad and 9 in GB.