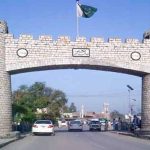 The Turbat Counter-Terrorism Department (CTD), in a joint operation with women police, have arrested an alleged female suicide bomber on Monday.
Law enforcement say the suicide bomber is part of the Majeed Brigade wing of the Baloch Liberation Army, the banned militant group whose female suicide bomber carried out the attack at the University of Karachi's Confucius Institute that killed three Chinese nationals.
The forces raided a house in Balochistan's Hoshab area on the information of a security agency. In the raid, they seized a suicide jacket and other explosives.
Sources within law enforcement said that the suicide bomber was being prepared to target Chinese officials on the China Pakistan Economic Corridor (CPEC) route or a caravan of security forces.
They said that she was being trained on the same lines as the woman identified as Shari Baloch, the female suicide bomber who exploded herself killing three Chinese language teachers.
The woman has been transferred to an unknown location for the investigation. CTD is conducting raids at different places to arrest other terrorists and facilitators of the group.