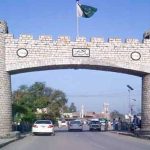 KARACHI: The Federal Investigation Agency (FIA) has arrested a key operative of a sleeper cell of Indian prime intelligence agency, Research and Analysis Wing (RAW), FIA officials said on Saturday.
The arrested man was working in the surveillance unit of Karachi Airport and was involved in target killing and terrorist activities, officials claimed.
FIA officials said that the accused, who joined Sindh Police in 1991, has traveled to India in 2008 to receive training. "He is affiliated with MQM's London group," officials claimed.
Earlier, the anti-terrorism wing of the FIA arrested Asif Siddiqui, also a key member of the RAW sleeper cell network of Karachi.
The arrested man was a Grade-17 government employee and was involved in sending information about security agencies to India in emails, officials claimed.
The accused was also sending photographs of sensitive security places and other details to India in emails, officials further said.