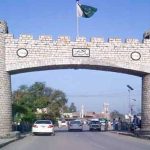 ISLAMABAD: The Federal Investigation Agency (FIA) on Saturday declared Asif Ali Zardari and his sister Faryal Talpur absconders in a corruption case relating fake accounts and fictitious transactions worth Rs35 billion.
The case was initially registered against former Pakistan Stock Exchange chairman Hussain Lawai, who is widely believed to be close to former president Asif Ali Zardari, and other bankers in connection with an ongoing probe into a massive money laundering scam.
Lawai and other bankers were accused of facilitating opening of 29 'fake' accounts in Summit Bank, Sindh Bank and United Bank Limited, where 'beneficiaries of the Sindh government' had deposited Rs35 billion that was subsequently transferred to different accounts
In the case's interim charge sheet dated July 21, 2018, Zardari and Talpur's names appeared in the list of absconding accused persons along with their addresses.
Besides, Zardari's close aide Anwar Majeed and his son were also named in the list of absconders which contains the names of 20 individuals.
Commenting on the FIA's decision, Zardari termed it political victimisation claiming that FIA DG Bashir Memon was working on an anti-PPP agenda.