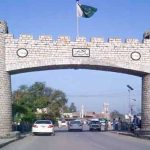 ISLAMABAD: The Federal Investigations Agency (FIA) has suspended the female officer Gazalla Shaheen for allegedly subjecting the women passengers to torture at Benazir Bhutto International airport after a video went viral confirming the incident.
Interior minister Chaudhry Nisar Ali Khan took notice of the video on torturing the women passengers by FIA lady constable Ghazala Shaheen and directed the Director General of FIA to probe into the incident.
The notification dated 18th April said: "In the light of enquiry report on the incident dated 15/04/2017 LC Ghazala Shaheen is hereby placed under suspension and close to FIA Zonal Office Islamabad with immediate effect until further orders.
However, no mention was made in the report about torturing of the female passengers by FIA lady constable.
The video shared on social media clearly show the female officer dragging, beating the passengers while they screamed.