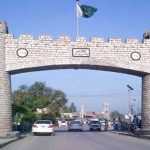 ISLAMABAD: The Federal Investigation Agency (FIA) Thursday raided currency exchange offices in Islamabad and recovered foreign and Pakistan currency.
According to reports, the FIA teams raided two offices operated by currency exchange companies in Islamabad's F-10 Markaz and Blue Area as part of crackdown against dollar hoarding and money laundering. According to FIA, the companies were operating without license.
The seized 6,960 Saudi riyals, 1,000 euros, 2,640 pounds sterling, 3,100 Australian dollars, $5,030, 6,335 Emirati dirhams, 100 Qatari riyals, 401 Chinese Yuan and Rs2,483,700 from the Blue Area exchange, while a sum of Rs4.3 million was recovered from the F-10 Markaz exchange office.
The FIA has started criminal proceedings against the currency dealership owners.