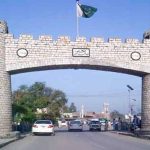 LAHORE: Federal Investigation Agency (FIA) said on Wednesday that it is ready to probe the properties of Pakistanis in Dubai, in a bid to crackdown on money laundering and tax evasion.
FIA Punjab said it will take soon action against those individuals who made properties outside the country in Dubai through illegal means.
It said those who buy properties in Dubai include criminals, front men, businessmen, bureaucrats and other powerful elements in the society.
Local media reported that FIA Punjab has already started its crackdown against the Pakistanis' properties in Dubai. A list of 4,272 people has been prepared at the FIA headquarters out of which over 300 people belong from Punjab.
It was added that FIA directed teams under deputy directors in Lahore, Multan, Faisalabad, and Gujranwala for the inquiry. FIA teams will investigate the 238 individuals in Lahore and check their sources of income.
Reports added that FIA has already started probing 11 such cases and will soon plan action against others.