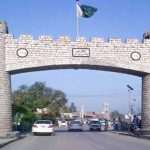 MULTAN: Police on Thursday registered a case against 40 lawyers for vandalizing the new judicial complex in Multan citing lack of facilities.
The lawyers also included Lahore High Court (LHC) Bar Multan Bench President Sherzaman Qureshi who also manhandled a LHC judge in July this year.
Superintendent judicial complex lodged the FIR at Bahauddin Zakariya police station. The case has been registered under Section 7 of Anti-Terrorism Act and Section 16 of the Punjab Maintenance of Public Order Ordinance.
On Wednesday, lawyers protested the shifting of the judicial complex and resorted to vandalizing the new building.
The enraged lawyers broke the windows and doors of the judges' rooms and courtrooms inside the new judicial complex and chanted slogans.