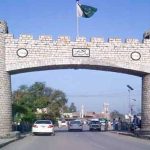 MARDAN: Police have lodged a First Information Report (FIR) against members of a charged mob that mercilessly assaulted two university students ─ killing one and injuring another for alleged blasphemy in Mardan a day earlier.
The FIR has been lodged in Sheikh Maltoon police station against 20 suspects, of which eight have been arrested, Mardan District Police Officer Dr Mian Saeed said.
The suspects were identified through video footage of the incident, while the police have formed three teams to arrest the remaining suspects, Dr Ahmed stated.
On April 13, Abdul Wali Khan University students Mashal and Abdullah were targeted by a violent mob on campus premises, that killed Mashal and injured Abdullah for allegedly "publishing blasphemous content online", according to police.
The campus was shut down following the incident until further notice and its hostels vacated to avoid a further escalation of violence.