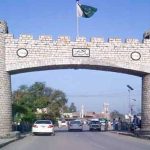 Fire broke out on Thursday afternoon in Gol National Park Chitral.
Syed Sarmad divisional forest officer said that volunteers from the local community are helping the wildlife and forest department to keep the fire from spreading to parts of forests that are densely populated.
Syed Sarmad further added that about 100 acres of forest had been destroyed until now.