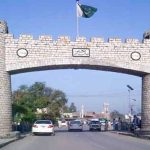 PESHAWAR: Fire erupted at a seminary in Lakki Marwat District of Khyber Pakhtunkhwa reduced valuables worth millions of rupees to ashes.
According to details, huge flames of the fire engulfed more than a dozen shops surrounding the seminary.
Students of the seminary and local people contained the fire unaided.
The local administration is investigating the incident; however, they could not determine reason of the fire so far.