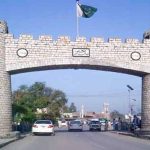 ISLAMABAD: Fire erupted at weekly bazaar near Peshawar Morr in Islamabad on Wednesday engulfing several stalls within minutes.
The fire intensified by followed by a cylinder explosion, which resultantly engulfed more that 50 stalls.
The reason behind the eruption of fire is yet to be ascertained with rescue teams and fire fighters trying douse the fire.
No loss of life has so far been reported while those who received burn injuries were taken to hospital for medical assistance.
The Bazaar is set up to offer commodities and edibles on cheaper rates.