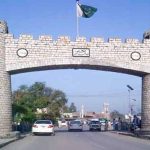 KARACHI: A fire engulfed the New Sindh Secretariat on Saturday, with flames leaping up to six floors of the building.
The entire province's administration records are under danger since important documents were inside the building that caught fire.
Firefighters were busy battling the flames as no Sindh government official was present on the site.
Important departments such as Food, Health and Works and Services are located inside the New Sindh Secretariat building.
Transport minister Nasir Hussain Shah's office is also located inside the building.
The fire brigade was delayed by twenty minutes.