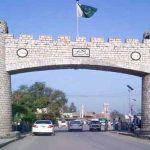 PESHAWAR: Firefighters have doused the fire which was erupted in the offices of the state TV in Peshawar early Friday.
The blaze had engulfed part of the building housing state TV offices in the city's Saddar area, officials said, which gutted equipment worth millions while damaging two studios.
"The fire broke out in the design section of the building," said Mirza Amjad Javed, general manager of Pakistan Television (PTV) Peshawar.
He added that the cause of blaze was yet to be determined.
Mirza said four fire tenders and around 30 firefighters partook in extinguishing the inferno.