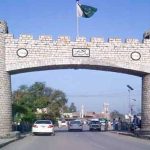 MARADAN: At least four people lost their lives apparently in a feud of old enmity in Mardan district of Khyber Pakhtunkhwa.
According to details, unknown gunmen in Mardan's Garhi Kapura area fired shots on four people when they were going somewhere.
Police said the victims died on the spot while attackers managed to flee from the scene.
Bodies of the deceased were shifted to District Headquarters hospital for medico-legal formalities.
Police said they are so far clueless about motives behind the gruesome act of murders; however, they suspected that old enmity could be a reason behind the gun attack.
Investigations were underway.