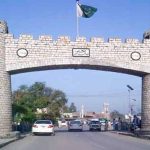 KARACHI: An official of Afghan Consulate was killed after his guard opened fire on him following a heated arguments inside the Afghan Consulate building in Karachi on Monday.
According to reports, firing shots were reported inside the Afghan Consulate. Reports said that an official of Afghan Consulate is reported to have been killed in the gun attack. The dead body has been shifted to hospital on board a Rescue ambulance.
According to Afghan Consulate spokesman, a security guard exchanged hot words with the official and later on, he opened fire at him, leaving him dead and another wounded.
Receiving the reports, heavy contingents of police and paramilitary force rushed to the site and put a security cordon around the place situated in Karachi area of Clifton, Block-V.
More troops have been summoned to beef up the security.