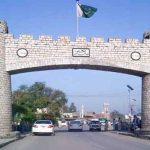 The first batch of 149 Pakistanis who were stranded in the war-torn Sudan safely reached Karachi on Friday.
Pakistani mission is actively engaged in the evacuation of Pakistanis from Sudan which has been slipped into the worst kind of civil war.
The ministry of foreign affairs in its tweet on Friday said: "The first batch of 149 Pakistanis evacuated from Sudan arrives safely in Karachi.
"Safe evacuation of every Pakistani and bringing them home safe remains our top priority."
PM Shehbaz lauds successful evacuation
Prime Minister Shehbaz Sharif on Friday lauded the team involved in helping Pakistanis in Sudan for its efforts to ensure successful evacuation of Pakistanis.
The prime minister expressed satisfaction over the safe arrival of 847 Pakistanis at Sudan Port and 107 Pakistanis in Jeddah, Saudi Arabia.
PM Shehbaz also lauded the efforts of the Pakistan Air Force for ensuring the safe return of Pakistanis from Sudan.
He appreciated Foreign Minister Bilawal Bhutto Zardari, Minister of State for Foreign Affairs Hina Rabbani Khar and Secretary Foreign Affairs for efficiently supervising the overall work.
He also praised the Pakistani Ambassador in Sudan Mir Behrose Reki, Head of Chancery Muhammad Saeed, Defence Attache Col. Muhammad Haroon, and Commercial Attache Atta Ullah.
The prime minister especially paid tributes to the staff members of the Pakistani Embassy in Sudan Muhammad Bilal Shafiq and Rashid Khan for their efforts in this regard.
He directed the concerned authorities to continue to work with full vigour until the safe return of all Pakistanis from Sudan.
Intense clashes between Sudan's military and the country's main paramilitary force have killed hundreds of people and sent thousands fleeing for safety, as a burgeoning civil war threatens to destabilise the wider region.
Foreign governments have scrambled to get thousands of their citizens out.
According to Saudi Arabia foreign ministry, the latest Saudi evacuation ship docked in the Red Sea port of Jeddah on Thursday to take the total evacuated by Riyadh to 2,744.