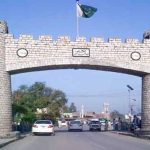 WANA: Police in South Waziristan tribal district has filed the first case related to 'Ghag' in merged tribal districts. Jagh is a practice which is still alive in some areas in Tribal districts in which a boy resorts to aerial firing with an announcement that a particular girl must be considered his fiancé as he would not allow anyone else to marry her.
According to the first information report (FIR) filed with South Waziristan Police, the accused, Umar, went to the house of a girl and resorted to aerial firing with a warning that he would kill all her family members if she did not marry him. The FIR has been lodged by the girl's father who has said that the marriage of the girl has already been fixed with another boy, but the marriage function has not been held yet.
District Police Officer (DPO) Shaukatullah said that South Waziristan Police has filed a case on the complaint of father of the girl and arrested the accused who will be produced in the court.
This ugly practice of Jagh is mostly criticised in Pakhtun society as it comes with the use of force and the girl's will for marriage is never considered.