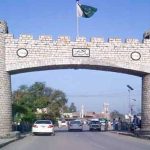 LAHORE: First lady Bushra Bibi on Saturday visited shelter home in Lahore and reviewed the arrangements.
She was accompanied by her friend Farah Khan during the visit.
The first lady directed the authorities to complete all the work related to shelter home as soon as possible.
Talking to media, Farah said that Bushra Bibi has always tried to solve the problems of the poor. People deprived of house and food are the priority of Bushra Bibi, she added.
Later, the first lady also visited Data Darbar, the shrine of Ali Hajveri.
Bushra Bibi's first trip as the first lady was to an orphanage in Lahore in early September. She had spent time with orphans at the Darul Shafqat.
Then in November, she visited a rehabilitation centre in the federal capital and interacted with women and children housed there who have mental health conditions.
Prime Minister Imran Khan had earlier asked Punjab Chief Minister Usman Buzdar to set up tents and provide food to the homeless people sleeping on footpaths.
He later shared pictures of the makeshift shelters setup in Lahore.
On November 10, Khan laid the foundation stone of Shelter Home Project in Lahore — the first of five other cities. These will be followed by shelters in other cities across the country.