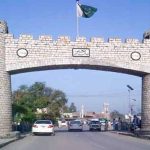 PESHAWAR: First case of the suspected coronavirus has been surfaced in Khyber Pakhtunkhwa (KP) after a man showing symptoms of the deadly virus was admitted to Saidu Sharif Hospital in Swat.
The hospital directed medicine department to provide clinical report regarding to possible coronavirus patient. The doctors also directed to make isolation ward consisting 10-bed.
The high level session of senior doctors and DHO was held about the suspected patient and the safety measure kits also provided to the doctors and administration.
Also read: Dr Zafar directs to allocate separate wards for patients suspected of coronavirus
Earlier, Special Assistant on Health Services Dr Zafar Mirza has confirmed that four Pakistani students in the Chinese city Wuhan are confirmed to have the coronavirus.
Addressing a press conference in Islamabad on Wednesday, the special assistant said that the government will take good care of the students who have contracted the virus without naming any student.
He said that a large proportion of the Pakistanis living in China are students of which over 500 students are based in the central city of Wuhan, the epicentre of the new virus.
"The health condition of four students, who confirmed to have the coronavirus, is better now," Dr Zafar Mirza mentioned. He also assured that that health ministry is in contact with the Pakistani embassy in Beijing. "Pakistani officials in China are in constant touch with all the students," he added.
Briefing about the coronavirus, the special assistant Dr Zafar Mirza said that the virus attacks three people out of 100, leaving remaining 97 unaffected.