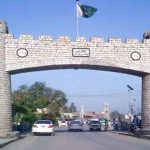 RAWALPINDI: As many as five personnel of Pakistan Army have embraced martyrdom while discharging their duties in elections, said a statement issued by Inter-Services Public Relations (ISPR).
According to the statement, the Army officials embraced martyrdom their vehicle met an incident in Battagram.
"Five more sons of soil embraced Shahadat (Martyred) while serving the nation during Elections duty", it said.
The statement read, "Vehicle after delivering election material at NA-12 RO office fell 250 feet down the cliff on road side."
It added that no sacrifice was more sacred than the life sacrificed in the line of duty.