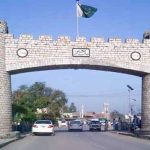 KARACHI: Five children have died from food poisoning at a local restaurant, Karachi police said on Friday.
Mother of the children is being treated at the hospital in a critical condition, the police said, without providing further details.
The children are aged between 1 and and nine years.
The family that belongs to Quetta had eaten at a restaurant before being shifted to hospital.
The children have been identified as Abdul Ali (1.5 year old ) Aziz Faisal (4), Alia (4), Towhid (7) and salwa (9).