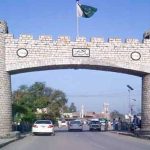 NEW DELHI: Five people, including three women, were killed on Saturday night when a four-storey building collapsed in the Indian capital New Delhi, said a report published on Time of India.
At least ten others were critically injured in the collapse and roughly six people were feared trapped under the debris of the building, police said.
The residential building was located in a narrow lane in C block near Masjid Khayala in west Delhi's area of Vishnu Garden.
According to an official, the incident occurred when the building caved in as digging was under way at an adjacent plot for construction.
"Two people [women] who were taken to the hospital have died. Ten persons sustained serious injuries and they were rushed to nearby hospitals," Press Trust of India quoted Dipendra Pathak, joint commissioner of West Delhi Range Police, as saying.
It was also confirmed by the police that the body of one more woman was found lying under the roof of the building.
"We received a call about the building collapse at 9:07pm and immediately eight fire tenders were rushed to the spot to rescue the affected people. It is a four-storey building and many people were feared trapped," an official of fire department said.
Local police, National Disaster Relief Force (NDRF) and civil administration carried out rescue operations, Deputy Commissioner of Police (DCP) of west Delhi Pushpendra Kumar said.
"2 NDRF teams from Ghaziabad, with about 30 men in each, have been rushed to the spot," a senior NDRF official said.
According to Delhi fire department chief A K Sharma, the narrow passage leading to the collapsed building made it difficult for rescue teams to take their equipment to the site. Officials also said that the large number of crowd gathered at the site also hampered rescue operations.