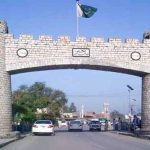 PESHAWAR: At least five people were killed and 18 others sustained injuries in rain-related incidents in Khyber Pakhtunkhwa, according to a Provincial Disaster Management Authority's report on Sunday.
Rains lashed several areas of Lahore, due to which residents had to suffer prolonged power outage.
In Tajpura area, highest level of rain was recorded, which was 54 milimetre. Meanwhile, Jail Road and airport recorded 23 and 31 mm of rain, respectively.
Several areas such as Davis Road, Lakshmi chowk, and several other roads became inundated due to excessive rain water.