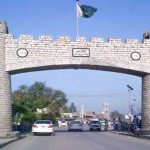 QUETTA: At least 12 persons were wounded including five personnel of Frontier Corps (FC) on Tuesday in a terrorist attack on a check post in Baleli area of capital city of Balochistan province.
Unidentified terrorists opened fire at a security check post in leaving at least 12 persons injured who were shifted to Combined Military Hospital (CMH) for treatment.
Retaliatory fire by security forces killed two terrorists after exchange of fire continued for what is reported to be a long time. Additional contingents of security forces were summoned on the site who launched a search operation in the area.
Rescue ambulances shifted the wounded to the nearby hospital after learning about the news.