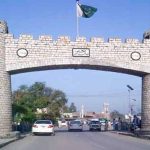 FAISALABAD: Five persons including two women were killed in different road accidents in and around the city during past 12 hours.
Police said here Sunday that a rashly drive truck hit a rickshaw at Jhang Road near Truck Stand. As a result, rickshaw riders Parveen Bibi, Arshad Mukhtar and Arshad Khushi received serious injuries and were shifted to hospital when Arshad Khushi succumbed to his injuries in the way.
In another accident, Mehboob Hussain was killed when a recklessely driven car hit his motorcycle near Chak No.475-GB, whereas 14-year-old Sunny Kashif was killed when a tractor trolley hit him near Chak no.161 Chak Jhumra.
Similarly, 20-year-old Hafiza Rehana Ashraf resident of Chak no.74-JB was killed when a rashly driven loader hit her near Chak no.67-JB Sadhar while Khalida Bibi resident of Chak No.66-JB was killed and her daughter Nimra Bibi received serious injuries when a recklessely driven loader hit the rickshaw they were travelling in near Shadab Colony Jhang Road.
The police took bodies into custody and started investigation.