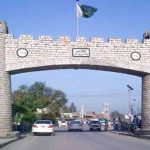 JAMRUD: At least five people were killed in an IED explosion targeting peace committee workers in Akka Khel area of Tirah Valley of Khyber Agency here on Monday, security sources said.
According to security sources, the remote controlled bomb targeted a vehicle of peace committee in Akakhel area of Tirah Valley. Five people were killed and several others sustained injuries in the explosion, security sources informed.
According to the political administration of Khyber Agency, those killed in the attack have been identified as Zar Wali, Noor Khan, Gul Nawaz, official Abdul Manan and Tamiz.
Security forces has cordoned off the area. The injured were shifted to hospital for treatment.