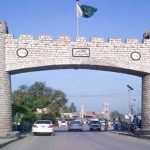 PESHAWAR: In a shocking set back to polio eradicating campaign from the country, five more polio cases have been reported from three districts of Khyber Pakhtunkhwa.
According to the Emergency Operation Center, three cases have been reported from Bannu and one each from Charsadda and North Waziristan tribal district. The affected children include three girls and two boys.
The Emergency Operation Center said the main reason behind emergence of polio cases is refusal by parents to administer anti-polio vaccine to their children. It requited the parents to fully cooperate with the vaccination teams to save their children from the crippling disease. It said the parents should not pay heed to negative propaganda against vaccination and vaccinate their children for their safe future.
After emergence of five new cases, the total number of polio cases in Khyber Pakhtunkhwa this year has reached 41.