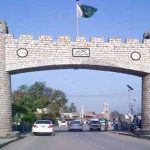 PESHAWAR: Deputy Commissioner (DC) Peshawar, Saqib Raza Aslam here on Monday said that five deaths have so far been reported due to dengue virus from various hospitals whereas the number of affected patients has mounted to 830.
The DC who is the focal person of KP government for control of dengue virus, said the first dengue case was reported on July 20 by Khyber Teaching Hospital (KTH) and 134 patients were admitted in different hospitals of Peshawar.
He said a comprehensive anti-dengue plan has been implemented on ground under which every team comprising a leady health visitor, four members of anti-dengue fumigation/spray, LG representative and an official of Revenue Department has started anti dengue-operation in the most affected areas of Tehkal and Peshtakhara Bala to control the spread of virus.
"The areas of union council 38 and 39 of Tehkal and Peshtakara Bala were mostly affected by this virus," he said, adding nearly 4,500 houses were located, which would be covered by the anti dengue teams by September next.
In addition to Tehkal and Peshtakara Bala, dengue cases have emerged in Faqirabad, Khyber Colony, Pishta Khara and its surrounding areas.
Each team has been given a target of 300 houses to conduct fumigation, anti mosquito spray, distribute necessary medicines including chlorine tablets for water purification and create awareness among masses against the deadly epidemic in a day, he explained.
The fumigation has already been started in the above affected areas and would be completed in six days, he said and added following completion of this first phase, the plan would be extended to other areas of Peshawar.
The DC said the Punjab Health Department has increased the number of health mobile units to three in order to fight the disease under its 'Karwan-e-Sehat' campaign.
The people of Peshawar have highly thanked the Punjab Government especially its Chief Minister Mian Shahbaz Sharif for timely sending the experts team to help control dengue virus in the district.
The experts' medical teams of Punjab government are busy in providing health aid to those affected in Tehkal and Safaid Dheri areas for the third consecutive day.
"At least two to three months would be required to have a complete control on dengue virus," he said, adding under the standard operating procedure (SOP), efforts would be made to complete eradicate the virus by October next.
To a question, he said, in the next phase, dengue larwa would be eliminated for which a special campaign would be launched in March next year.
The DC said unplanned urbanization, poor hygienic conditions, storage of smuggled tyres in houses, standing of water, tyres and old furniture shops were the major causes of dengue epidemics in the affected areas.
He appealed people to keep tyres at safe places by protecting it from rains and water, remove standing water in their surrounding, conduct anti-mosquito sprays in furniture showrooms, houses to wipe out dengue virus.
The DC said cooperation of people were imperative for complete eradication of dengue virus.