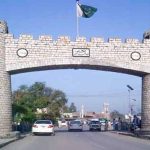 KARACHI: The security agencies have apprehended five people including a university professor and his niece for their alleged links to Daesh in Karachi.
The Counter Terrorism Department Sindh, on credible information by intelligence agencies, conducted operation in Karachi East district and arrested a professor at an engineering university of Lahore, his niece and three other suspects.
According to the sources, the main suspect is the professor at Lahore engineering university, however, officials have neither disclosed identities of the suspects, nor the university's name as further investigation is under way.
The suspects were planning to carry out targeted attacks in the metropolis using explosives fitted on unmanned drones.