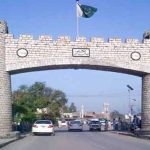 PESHAWAR: The ousted prime minister and President of Pakistan Muslim League-Nawaz (PML-N), Nawaz Sharif has said that Pakhtuns had turned the course of history by rejecting a court's decision against him.
Addressing a rally in Peshawar on Sunday, Nawaz Sharif said he worked day and night and eliminated load shedding from the country adding that he honored all of his promises.
Taking a jibe at Pakistan Tehreek-e-Insaf (PTI) Chairman Imran Khan, the disqualified prime minister said that the "Sadiq" and "Amin" has stolen in the helicopter as well.
He asked Imran Khan as to where were the schools and universities he had promised.
Nawaz Sharif said never did corruption but still only "five people" gave decision against the mandate of the nation.
The ousted prime minister said that the ruler of Khyber Pakhtunkhwa was an expert of fabrication who became "Sadiq" and "Amin" while telling lies.
The disqualified prime minister added that he saluted the "people" who declared Imran Khan as "Sadiq" and "Amin".
Nawaz Sharif said that Imran Khan had the government in Khyber Pakhtunkhwa but it was the government of Nawaz Sharif undertaking development projects in the province.