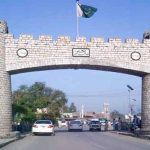 DIKHAN: Police on Friday arrested five people for their alleged involvement in the looting of relief supplies from a truck intended for flood victims in Dera Ismail Khan.
The incident was first reported on Thursday, with widely shared videos showing people climbing the truck and making away with relief supplies.
Police were able to identify the five accused based on the viral videos and a case has been registered against them.
"People involved in such crimes will not be spared," DSP Adnan said in a statement, adding that the remaining people who were part of the mob would also be arrested and brought to justice.
Millions of victims are awaiting aid across the country, as unprecedented rains and flooding have destroyed crops and disrupted supply networks.
The situation has reached a point where flood affectees have held protests, blocked roads and chase away politicians over inadequate relief. Several instances of looting have also been reported.
Earlier this week, a truck carrying relief supplies was attacked adn looted on the Hyderabad road near Thatta.