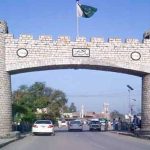 MIRANSHAH: A group of people led by Ali Wazir and Mohsin Javed Dawar attacked a check-post in North Waziristan, leaving five military personnel injured, ISPR said on Sunday.
It said the aim of attacking the Khar Qamar check-post was to exert pressure in order to get some suspected facilitators of terrorists released.
The ISPR said three attackers were killed and 10 others were injured.
According to the ISPR, eight people including Ali Wazir were taken into custody.
However, independent sources informed, the clash erupted between workers of the Pashtoon Tahaffuz Movement (PTM) and security forces at a place where PTM workers have been staging a sit-in for many days. The sources said several workers of the PTM have been taken into custody after the incident.
Mohsin Dawar and Ali Wazir, members of the National Assembly and senior leaders of the PTM, were also present in the area.