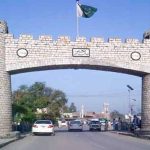 RAWALPINDI: At least five security officials were injured in two separate incidents of cross-border skirmish initiated by terrorists from the Afghan side on Sunday, said a statement by the Inter-Services Public Relations.
Terrorists carried out attacks along the Pak-Afghan border in Khyber-Pakhtunkhwa's Bajaur Agency and Balochistan's Qamar din Qarez injuring four Frontier Corps soldiers and one Pakistan Air Force (PAF) official deployed at the observation post. The security forces managed to kill at least six terrorists in retaliatory operations.
"Taking advantage of ungoverned spaces and facilitation inside Afghanistan, the terrorists resort to such attacks to prevent fencing and construction of border posts," read the statent.