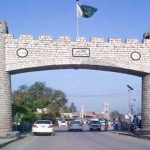 PESHAWAR: Five terrorists were killed during police and security forces joint operation in Phase-7 of Hayatabad, the outskirt of Peshawar here on Monday.
As per the latest reports, the operation which began on late Monday night has entered its final stages as it is still underway at the upper floor of a house in Phase-7 of Hayatabad.
Moreover, other houses in the neighbourhood were vacated and sounds of explosives going off were also heard at the area, said sources.
Security forces have cleared the basement and ground floor of the house.
Corps Commander Lt Gen Shaheen Mazhar Mehmood also paid a visit to the spot to review the proceedings of the operation against terrorists. Fresh contingents of security forces have also arrived at the spot.
SSPO Jamil ur Rehman has said that the entire residence will be cleared very soon.
The operation commenced on the late preceding night after Law Enforcing Agencies (LEAs) raided the house on the secret information indicating the presence of some terrorists.
The terrorists opened directed firing on police, injuring a cop, who later scummed to his wounds and embraced martyrdom.
KP Information Minister Shaukat Yousufzai has also confirmed the death of police personnel.