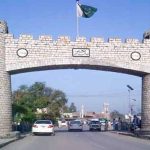 MARDAN: The body of a five-year-old girl was recovered from the Kati Kalay area of Takht-i-Bhai in Mardan on Wednesday.
According to District Police Officer (DPO) Wahid Mehmood, the girl was reported missing by her father yesterday, following which a complaint had been registered.
The child's body was found today, not far away from the family's residence.
According to the deceased's family, torture marks were found on the child's body. However, DPO Mehmood said that whether or not the child was raped could only be ascertained after a medical examination.
The body has been shifted to the Mardan Medical Complex.
A first information report has not been registered as yet.